6 novembre 2018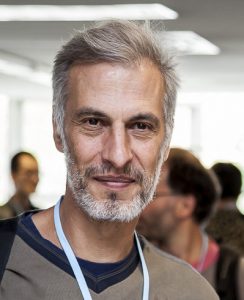 La collaboration « Planck » de l'Agence Spatiale Européenne a récemment publié une carte plein-ciel du rayonnement fossile cosmologique. Cette image est presque littéralement une « photo instantanée » de notre Univers aux premiers temps de sa formation, la plus vieille image du monde. Elle confirme avec éclat et approfondit la théorie du Big Bang, notre meilleur scénario pour l'origine et la formation de l'Univers.
Dans cet exposé, je rappellerai les grandes lignes de la théorie du Big Bang, décrirai le satellite Planck et le traitement des données qui ont permis de cartographier l'Univers primordial avec une merveilleuse précision. Puis, j'expliquerai comment « des données, on extrait la Science », c'est-à-dire comment la statistique fait parler cette image des premiers photons pour en tirer l'âge de l'Univers, son contenu en masse et énergie, et bien d'autres choses…
Jean-Francois Cardoso (born 1958) is Directeur de Recherche with the French CNRS (Centre National de la Recherche Scientifique) at the Institut d'Astrophysique de Paris. Since 1989, he has been extensively working on all aspects of blind source separation and independent component analysis. In 2001, he joined the Planck collaboration, a cosmological mission of the European Spatial Agency, for the analyis of Planck data. He developped in particular the blind component separation method which extracted a full-sky high-resolution map of the Cosmic Microwave Background out of the 9 Planck frequency channels. In 2014, he was awarded the CNRS silver medal.